[Technically, Mama Nervosa celebrates a year of existence next month.]
A year ago I quit grad school, I quit drinking, and I started writing. I took a writing class and met Jen and said "you should blog with me" before I even knew her last name. I had no grand vision for this blog beyond having something written that was public. And writing about exactly what I wanted to write about, all the time, no exceptions. The opposite of grad school: my voice, topic choice, and a broad audience! Unfortunately, writing about whatever, whenever flies in the face of all conventional advice about how to cultivate a following for your blog. If we'd been really smart (or organized) we'd have been a Mommy blog. Or a lifestyle blog. Or a music blog. Or a quitta blog. And made our URL something like momswhoquitgradschoolandmarriedguyswithbeards.com
That would have been wise, prudent, and potentially profitable! It just doesn't seem to be how we roll around here. I've had blogger's block lately. It's not that I don't have ideas — I have scads of them. I love writing about starting new projects, crazy changes on the homefront, music, video games, my past, and my future. I just keep getting bogged down in worries that it won't make sense. That it's too disjointed and random: the reader who found us because she likes reading our feminist take on kid's shows might bail if I focus too much on work stuff. But my post-ac readers might be all YAWN when I start talking about weaning my daughters. About 50% of our traffic comes from random Google searches, and that doesn't make or sustain a real audience. We're not doing it right.
And I really want an audience! I've wanted an audience since I was a kid! I swear, if I could have been a blogger at age 7, I totally would have. I've always wanted to share my life. I remember when I discovered online journaling and was like OMG YES I WILL SHARE MY DIARY WITH STRANGERS! SIGN ME UP! I was born to blog. I have a deep confessional streak. I want people to read my stuff. So I would like to have a bigger audience.
But I can't seem to break down my life into component parts to make that happen. My head says that we should streamline: theme it up, get some custom fucking graphics, have features and topics and some sense of coherence for goodness' sake!! Then my heart says it wouldn't be the whole story. Once I start thinking about things to leave out, it stops feeling like my (our) story, and it starts feeling like homework. I have thoughts, people! Insightful ones! Don't preach to me about SEO!
I poked around for someone else to have encapsulated what it means to Be A Blogger in a way that resonates with me. I found a lot of "inspiration" and "chronicle my journey from x to y" and "Jesus" and "crafts" and "help people," but this post at New York Cliche comes closest to how I feel:
I am aware that sometimes I walk on thin ice. I click the "Publish" button on my side bar, knowing full well I'm playing with fire. These texts are in my message history, "I wrote about you in my blog. Let me know if you hate it." I look at the collection of stories I've told here, the comments I've received, the depth of my writing, how my style has evolved over the years, and I am proud… Why doesn't the world know I wrote this? It's good! Look at me, I'm clever! At the core… is the desire to write, not the desire to be read; no doubt this is obvious. I spend hours crafting each entry. I do it for myself, yes, but I send it out into the world hoping others get something out of my writing. I'm an artist by profession. I want to make my audience (that's you!) think, I want to push the envelope. Affecting people is my passion. Even if the effect is discomfort…
Am I an artist? A writer? Those seem like such loaded words. I avoid saying them. They're not even in my "about" page. I feel comfortable saying I'm a teacher because I've been paid to be a teacher. I even feel ok saying I'm an academic even though my qualifications are questionable! But WRITER sounds IMPORTANT and I don't need another case of imposter syndrome after 8 years in grad school.
What is this weird genre of the blog? Why do I like it so much? Why am I here? Why so many words in all caps? Why did Jen get on this crazy train with me? What's the point, if not sharing parenting tips, or making money or, I guess, working on a book deal? (I'm not ruling that out.) My big mouth + the internet has definitely = conflict in my life, but I keep being pulled back to this space and yapping about stuff I should keep private so everyone can see, including my Dad (maybe someday), my friends, my enemies, and my ex-boyfriends (all 3 of you!). Andrew Sullivan writes about exposed and vulnerable nature of blogging in this piece at The Atlantic:
No columnist or reporter or novelist will have his minute shifts or constant small contradictions exposed as mercilessly as a blogger's are. A columnist can ignore or duck a subject less noticeably than a blogger committing thoughts to pixels several times a day. A reporter can wait—must wait—until every source has confirmed. A novelist can spend months or years before committing words to the world. For bloggers, the deadline is always now. Blogging is therefore to writing what extreme sports are to athletics: more free-form, more accident-prone, less formal, more alive. It is, in many ways, writing out loud.
Sullivan says that a blogger is less a Writer and more a conversation starter or dinner host:
The role of a blogger is not to defend against this but to embrace it. He is similar in this way to the host of a dinner party. He can provoke discussion or take a position, even passionately, but he also must create an atmosphere in which others want to participate. That atmosphere will inevitably be formed by the blogger's personality. The blogosphere may, in fact, be the least veiled of any forum in which a writer dares to express himself. You can't have blogger's block. You have to express yourself now, while your emotions roil, while your temper flares, while your humor lasts. You can try to hide yourself from real scrutiny, and the exposure it demands, but it's hard. And that's what makes blogging as a form stand out: it is rich in personality. What endures is a human brand… It stems, I think, from the conversational style that blogging rewards. What you want in a conversationalist is as much character as authority. And if you think of blogging as more like talk radio or cable news than opinion magazines or daily newspapers, then this personalized emphasis is less surprising. People have a voice for radio and a face for television. For blogging, they have a sensibility.

I totally agree. I love our blog because it is full of personality, and I think we have a harmonious, honest, funny "sensibility." Which makes me feel a little like this: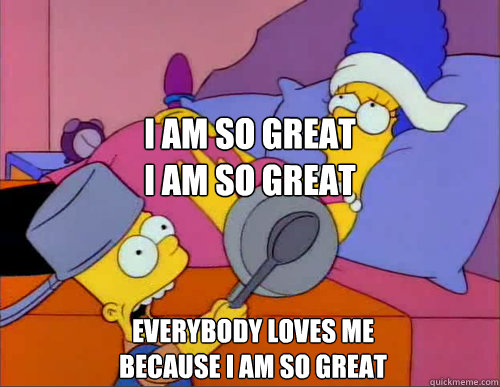 I just keep thinking, reader-friends, that Jen and I are neat and interesting people. I think our lives are only going to get more interesting. We have cool stories to tell you. We are funny and we have killer taste in music. We're irreverent and nice and insightful. We are full of awesome. I think you should read us for those reasons, even if you aren't a Mom, or a gardener, or an ex-academic, or a straight able-bodied cis-gendered white woman in her 30s, or broke, or a coffee drinker. I think more people should read us. We're at least as interesting as this guy if not, ya know, exponentially better in every way. It's going somewhere, we just don't know where, but that's not really the point of a blog: the ride is the point! I feel like if we start censoring the blog, leaving stuff out, focusing on "content" and "optimization," then we might miss out on something in ourselves.  You'll just have to trust us on this: something awesome will come from Mama Nervosa. Enjoy the ride. And tell your friends about us.